CREATIVE ARTS CAMP IS RIGHT AROUND THE CORNER!  ONLINE REGISTRATION BEGINS MAY 8, AT 9 a.m.! (registration links are not yet active)
This year's theme is "Blast Off To Creativity!"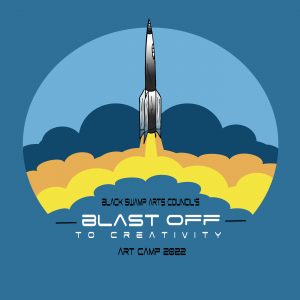 Our camps offer a high quality, process-centered arts experience which allows students ages 6-12 to explore their creativity through a variety of arts rotations, including; Drama, Music,
2-D and 3-D art.
We're offering camps in Montpelier, Wauseon and Archbold.  Sign-up soon for the week that works best for you!
• Montpelier:  June 27 – July 1; To register, click here
• Wauseon:  July 11 – 15; To register, click here
• Archbold:  July 18 – 22; To register, click here
Camp day starts at 9:00 a.m. and ends at 12:30 p.m.
For more information, call Caleb Wyse at
419-388-0204 or email at [email protected]
Space is limited!
Online registration begins May 8th, 2022!  Camp fee is $75 per student.  Financial assistance is available.
Students ages 13-18 who are interested in being a camp counselor please email
[email protected]
ONLINE REGISTRATION INFO:
• Online Registration begins May 8th, 2022, at the camp links above
We will only be accepting registrations online.  However, we'll still be offering a payment mail-in option for those who choose not to pay online.
MAKE CHECK PAYABLE TO: BSAC
SEND TO: BSAC Creative Arts Camp
c/o Caleb Wyse
107 Charles Street
Archbold, Ohio 43502
WE'RE LOOKING FOR JR. CAMP COUNSELORS FOR 2022:
You're never too old for art camp! Sign up today to be a Jr. Counselor for one of our creative arts camps. We're always looking for responsible students ages 13-18 to lead and assist our creative campers.
Please e-mail Caleb Wyse at [email protected] with any questions.