JMRR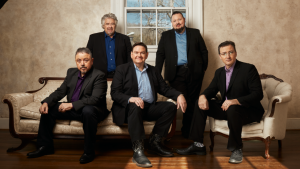 's mix of Bluegrass and Bluegrass Gospel has made them a favorite on the Grand Ole Opry, and stages across the United States and Europe.  Other awards include IBMA Collaborative Song of the Year w/Del McCoury (2019); IBMA Song of the Year (2018); SPBGMA Gospel Group of the Year (2018). See below for full list.
Please join Joe at 6:00 p.m. for a free 45-minute Industrial Strength Bluegrass presentation which explores Ohio's rich bluegrass music legacy.
Joe Mullins and The Radio Ramblers Career Highlights:
– Debuted on the historic Grand Ole Opry July 2013 with regular guest appearances since
– IBMA's Album of the Year – Joe Mullins, Producer (2021)
– IBMA's ENTERTAINER OF THE YEAR (2019)
– IBMA's Collaborative Recording – "The Guitar Song" featuring Del McCoury (2019)
– IBMA's Song of the Year – "If I'd Have Wrote That Song" (2018)
– IBMA's Gospel Recorded Performance (2016 & 2017)
– IBMA's Broadcaster of the Year – Joe Mullins (2016)
– IBMA's Emerging Artists of the Year (2012)
– Joe Mullins has earned 6 IBMA Awards and 4 SPBGMA Awards
– Hosts of the Southern Ohio Indoor Music Festivals held in March & November
– FOUR albums on Billboard's Top Selling Albums Chart – For The Record, The Story We Tell, Sacred Memories, and Another Day From Life
– ELEVEN #1 Songs & Albums since 2013
– "The Guitar Song" reached #1 on the National Blluegrass Survey's Top 30 (3 consecutive months August-Octboer 2019) and Bluegrass Today's Top 20 Songs Chart (March 2019)
– Joe Mullins is host of Front Porch Fellowship, a syndicated radio show that broadcasts weekly on over 200 radio stations
– JMRR represented Bluegrass Music at the National Folk Festival (2015)
– Featured Performers of Bluegrass Nights at the Ryman in Nashville, TN (2011 & 2012)
Thank you to Archbold Area Foundation, International Bluegrass Music Foundation, Ohio Arts Council and Arts Midwest for their generous support!